A good yoga mat is an indispensable tool for the modern yogi. It provides a cushion for the joints, grip so we don't slide, temperature control, so we're not lying on a cold floor, and of course, it's good hygiene. Depending on the type of yoga you practice, your requirements for a mat may change.
When choosing a yoga mat, you need to look at two criteria:
Thickness
Material 
In a perfect world, you'll be able to find a mat with superb grip, ideal thickness, and it would be completely harmless to the environment. While we don't live in such a world, the latest technology and innovation have brought us very close to it.
I will share all the information you need to make an informed decision about your purchase.  Let's talk about thickness first.
How thick should a yoga mat be?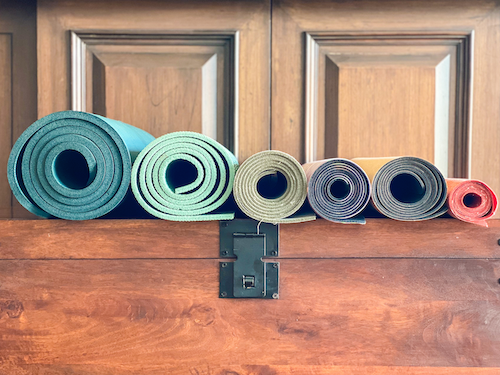 Good cushioning helps absorb the impacts of our movements and reduces the strain on the joints. Appropriate cushioning also makes it easier to rest our knees on the ground, thereby lowering the risk of repetitive stress injuries.
An average mat would be 3-5mm thick, not too thick, not too thin. If your joints are sensitive, go for 6mm-8mm thickness. 1.5mm is the approximate thickness of travel mats as they are very portable and easy to pack.
Summary of yoga mat thickness
Average thickness, suitable for most people: 4 to 5mm
Need extra cushion for the joints: 6 to 8 mm
Need super soft cushion for arthritic knees: ½ inch to 1 inch
Super lightweight travel yoga mats: ~1.5mm
Here's a picture of different yoga mats and thickness compared with an Indian INR 10/- Coin.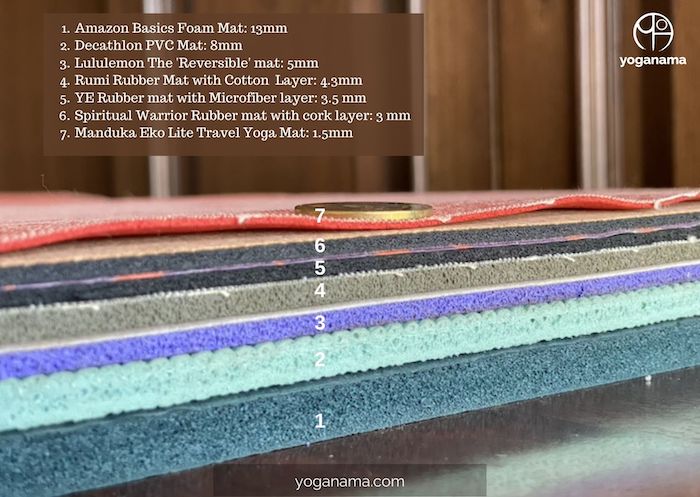 ---
MY RECOMMENDATION ON YOGA MAT THICKNESS:
In my view, 4-5mm is the best thickness, you certainly won't need a yoga mat of more than 8mm thickness for Yoga. If you practice on marble or stone floors then choose thickness on the higher side of this range. Mats thicker than 8mm tend to be unsuitable for balancing poses or Vinyasa as they sink in or slip a lot due to their material. And that's the tradeoff – you won't find rubber mats greater than 5mm thick, for such a range you move into mats made of plastic/petroleum by products. So, let's talk about the material now.
---
What is the best yoga mat material?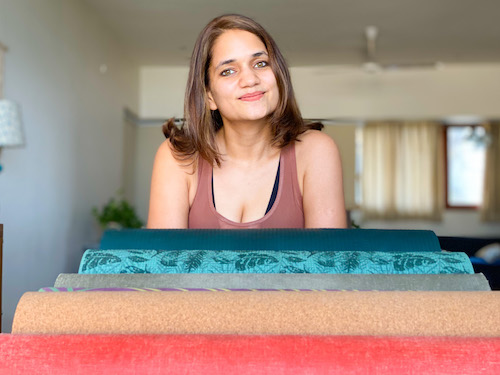 The material of the yoga mat is most important for grip. Poor grip means your hands and feet will slide easily on the mat compromising alignment and making you more prone to injuries. This is especially a problem for those who sweat a lot or practice Vinyasa yoga. The grip of a Yoga mat is determined by the material on the surface.
Most natural fibers are absorbent so they're very grippy whereas plastic mats are water repellant and therefore tend to be slippery.
Materials that have texture or absorb sweat will be very grippy. Whereas those that repel water or are very smooth and slippery will have less grip.
What are Yoga Mats made of?
There are three broad categories of yoga mats based on material:
Traditional Indian Rugs – These are pure natural fiber yoga mats made of materials like Cotton, Wool, Darbha Grass, etc.
Rubber Yoga Mats – In these mats, the base material is tree rubber which is layered or blended with another natural fiber like cotton, jute, hemp, or cork. These mats can also be layered with synthetic fibers like PU or Microfibre.
Synthetic Yoga Mats – These are made of materials like PVC, TPE, EVA, NBR not all of which are eco-friendly but provide a lot of versatility and are cheaper
Let's look at each one of them in detail.
Type 1: Traditional Indian Rugs
Traditional Indian Rugs made of cotton or darbha grass or wool, are great for mindful yoga practices and meditation. However, many people also enjoy practicing modern forms of yoga on these traditional rugs. It's really a personal choice as these mats don't have enough cushion and require more strength and control during practice than the sticky rubber yoga mats.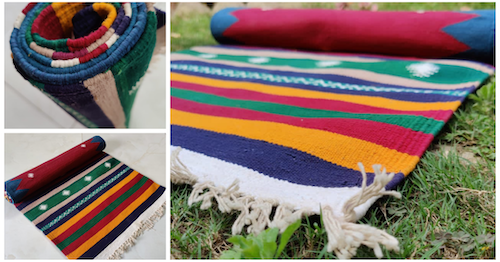 (The rug featured in the image was purchased from Karnataka Government's Handicrafts Emporium in Mysore)
If you're considering these I find that handmade rugs provide far better grip due to their uneven texture. I personally use cotton for meditation and a rubber blended mat for asana practice.
---
MY RECOMMENDATION ON INDIAN RUGS:
Pros: Natural material, supports local artisans, excellent for meditation
Cons: Not enough grip and cushion for modern yoga practices
My recommendation: You should have at least one natural rug or blanket for your meditative practices. Since these are inexpensive, you can consider buying them over and above an asana practice mat.
Where to buy?: Local artisans or Handicrafts fairs
---
Type 2: Rubber Yoga Mats
These mats are rarely pure rubber but are made by blending or layering with another material. Rubber is heavy and sticky which means you'll get excellent traction with the mat.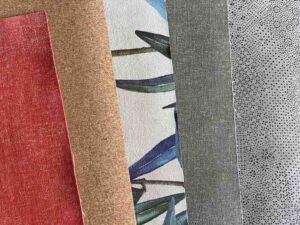 (Materials featured in the image above from L to R. On the extreme left in the red colored mat: Rubber (with foaming agents), Cork, Microfiber, Cotton Mesh, PU)
There are mainly 2 types of Rubber Yoga Mats: Rubber Mats with a natural fiber layer on top or with a synthetic layer on top.
1. Rubber mat with a natural fiber layer on top
These are rubber mats with cotton, hemp, jute, or cork infused into the mat or attached to the top layer. These are simple, elegant, and very minimalist mats with adequate cushion. The top layer usually has a special texture, which improves their grip even more.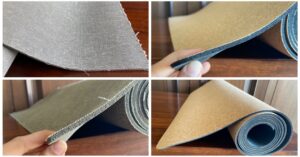 (Materials featured in the image above: 4.3mm Rubber Mat with Cotton Mesh layer on top (L) and 3mm Rubber Mat with cork layer (R) )
These mats are made entirely from natural materials which have their own unique properties. Hemp is a highly sustainable material, jute provides its unique rough texture, cotton is softer and cork gives excellent grip. Since they are so similar, choosing any one material over the other is really a matter of personal choice.
2. Rubber mat with a sticky synthetic layer on top
These are the latest and trendiest mats in the Yoga community and are made with either a Polyurethane (PU) or Microfiber layer on top. A rubber base ensures these mats don't slide on the floor as you move. These are recommended for those who perspire a lot during practice as their grip gets stronger the more you sweat.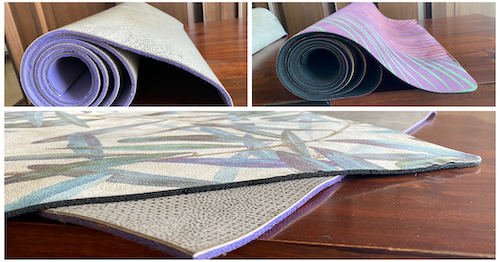 (Unfolded mats in the image feature Foliage Microfiber mat by Kosha Yoga (on top) PU Layer reversible Mat by Lululemon (Bottom))
Polyurethane (PU), also known as vegan leather, has an excellent grip, which only gets stronger as you sweat. One drawback I've faced with PU is that it gets stained and dirty easily and the marks are very hard to clean. This makes it a bit high maintenance, so, if you're buying one take good care of it and wipe it regularly as per the manufacturer's instructions.
Microfiber is soft to touch and often comes in very beautiful and vibrant prints. You can improve the grip of a microfiber mat by sprinkling some water on it before practice.  These can be hand washed or machine washed, but it is best to check with the manufacturer for the cleaning recommendations. Also important to note that hand washing is probably better than an aggressive machine wash due to microfiber pollution.
Note about Rubber Mats -> Rubber mats have a distinct smell that can take a few weeks to months to go away. Rubber degrades faster in direct sunlight or high moisture areas, so it needs careful maintenance. It is also not suitable for those with latex allergies. Rubber is also heavy so these mats are generally only 3-5mm thick as more than that would make them very heavy to carry.
---
MY RECOMMENDATION ON RUBBER YOGA MATS :
Pros: Environment friendly, good grip, and traction
Cons: Expensive, hard to find rubber mats with greater than 3.5mm thickness
My recommendation: Very hard to recommend one!
Where to Buy?: In India, you can purchase Natural Rubber yoga mats through these brands:
In international brands, Jade Yoga is a good option for natural mats and Lululemon, Liforme for PU Layer mats.
---
Type 3- Synthetic Material Mats
This category includes mats that use plastic/petroleum materials like PVC, EVA, NBR, etc. These mats are cheaper than natural material mats but not as grippy or stable. But, they're suitable for those who are budget conscious. I'm covering three types of mats here which are most popular.
TPE MATS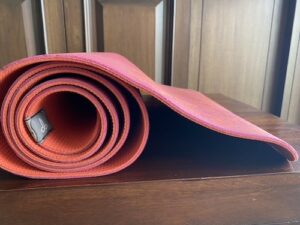 These mats are a blend of rubber and synthetic materials. They're lightweight, pliable, and are considered better for the environment than other materials like PVC. They repel water which means the mat will become slippery if you sweat a lot. You can recognize them by their distinct two layers of colors, Most sports brands sell TPE mats. These are also suitable for those with Rubber/Latex allergies.
For those with Allergies: TPE is a suitable option for those with Latex allergies. You can also find TPE and Cork blend Mats on Amazon India 
PVC MATS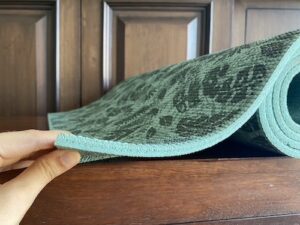 These are the 'original' yoga mats that came into the market.  They have a reasonable grip, are reasonably sticky, but become slippery when you sweat. They're also soft but don't retain shape well and sink under pressure, which is not good. Some chemicals used to stabilize PVC are harmful to the environment and carcinogenic to humans. Cheap PVC also disintegrates into microplastics which are deadly for the environment.  But brands are making progress on this front and making Eco PVC mats that use less disruptive chemicals and can last longer. So, if you're buying a PVC mat, do buy a good quality one from a reputed brand so it's less damaging to the environment and can at least last you a few years or a decade.
Manduka has a premium PVC yoga mat that is made in Germany and comes with a lifetime guarantee. Which means a lesser impact on the environment. In India Shakti Warrior sells eco PVC mats. And you can also find PVC yoga mats on Decathlon India. 
NBR or EVA Foam Mats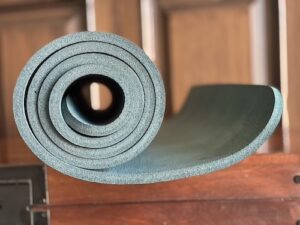 If you've seen those super spongy, foam-like soft mats that go up to 15mm in thickness – then you've seen a foam mat. They are usually a mix of rubber and PVC – these mats are very soft and useful for those who are looking for that level of cushioning.  EVA is the material that is used to make flip-flops – they're commonly seen in the floor mats that look like a jigsaw puzzle. Foam Mats slip and slide on the floor and would not be great for doing balance work or dynamic flow yoga.
---
MY RECOMMENDATION ON SYNTHETIC YOGA MATS :
Pros: Affordable, lightweight, can be very thick
Cons: Cheap mats can be harmful to the environment and possibly hazardous to your health
My recommendation: A very good quality eco-PVC from a reputed brand or a TPE Mat
Where to buy: You can purchase these mats through Amazon India.
---
Eco-friendliness of Yoga Mats
In general, natural materials like rubber, jute, hemp, and cork are more eco-friendly. And companies are making big strides in making eco-friendly synthetic mats as well. I did a fair amount of research in identifying which mat would be the most eco-friendly. I also connected with some engineers and those who'd worked with some of these materials. But my end result was inconclusive as this is really a very technical subject and each company has its own processes. So, if you are concerned about a particular material it's best to write to the brand and take clarification as environmental impact depends a lot on the manufacturing processes followed.
So, which is the best yoga mat to buy?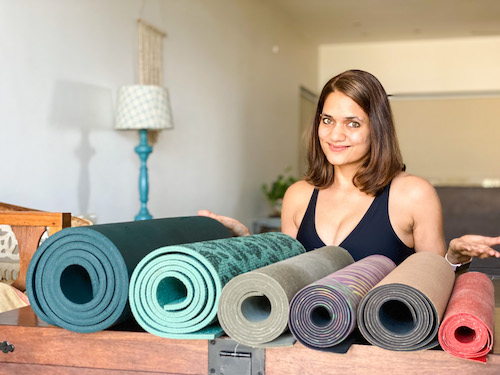 I recommend rubber mats for modern yoga practices- so the only thing you have to choose now is the top layer that you can get on a 4-5mm cushion. Here's what I would suggest:
So, that's all about the Yoga Mats in a nutshell. Your choice should really depend on the cushion that you are comfortable with, the material you like, the style of yoga you practice, and the type of floor your practice on.  Other factors to take into consideration are the brand's value system and the environmental impact of the product.
Where to buy Yoga Mats?
If you're looking for some of my recommendations, and discounts (in some cases), then here are a few helpful references.
Yoga Mat Recommendations for people in India
Rubber Mat with Micro Fiber or PU Layer, 4.5mm: Kosha Yoga –>You can get a 10% discount on Spiritual Warrior by using the code YOGANAMA
Rubber Mat with cork/hemp/jute Layer, 3mm: Spiritual Warrior –>You can get a 10% discount on Spiritual Warrior by using the code WARRIORNAMA 
Rubber Mat with Cotton Mesh Layer, 4.3mm: Rumi Sun Yoga Mat
Eco PVC Mat, 8mm with a 2-year warranty: Decathlon India & Spiritual Warrior
Yoga Mat Recommendations for people outside India
Sustainable Rubber Yoga Mat or Yoga Rugs: Jade Harmony
Lightweight Travel Yoga Mat, 1.5mm: Manduka Eko Lite
Rubber Mat with PU Layer, 5mm: Lululemon The Reversible Mat
Please note, all mats reviewed here have been purchased by me/by my family members, except the Microfiber mat which was received as a prize in a contest. Some brands have affiliate programs and may offer a discount if you purchase through links on this blog. Yoganama may earn a small commission from purchases made through these links.
All Images are subject to Copyright and cannot be reused without permission.